Welcome to my website!
I am currently working as a freelance Line Producer in HETV Drama and Comedy.   My most recent project was BREEDERS S4, a 10 x 30min comedy/drama for Sky/FX made by Avalon.  Prior to that I was working on Truelove a 6 x 1hr drama for C4 made by Clerkenwell films.  Very sadly the project shut down half way through due to case illness.
Before this I was Head of Production at Baby Cow from March 2016 to December 2021.  This was a fantastic opportunity to work with a company with an unrivalled catalogue of Comedy titles and responsible for some of the nation's favourite Comedy such as Alan Partridge and Gavin and Stacey.   During my time there I oversaw the making of two series of This Time with Alan Partridge, Zapped S3, The Witchfinder and Chivalry along with several tasters and pilots.
Previously I had been the Line Producer on BUCKET for BBC4 made by Solution 3 Productions, the comedy label at Company Television, headed up by Judy Counihan.  BUCKET was written by Frog Stone and starred Frog and Miriam Margolyes as mother and daughter on the mother's bucket list road trip.  It was directed by Rebecca Rycroft and Produced by Katie Mavroleon.
Before this I was working on a 3-part series for UKTV/Gold made by Retort, called Henry IX.  Produced by Pete Thornton and directed by Vadim Jean.  Written by the comedy legends Dick Clement and Ian La Frenais, it featured a superb cast led by the very lovely Charles Edwards.
In 2016 I returned to Vera Productions to work on the Jo Brand series – Going Forward.  It was always a great pleasure working with this lovely company and making programmes for BBC4.
2015 was spent working on my first film – Ricky Gervais' Life on the Road, it was a fantastic job that I feel very proud to have been part of.  I met some fantastic people and had a brilliant time making a great film.
Early in 2015 I completed a mini series to be broadcast on UKTV/Gold called Marley's Ghosts.  It was  made by John Stanley Productions and stars John Hannah, Sarah Alexander and Nicholas Burns.  It was a fantastic project due largely to the truly delightful cast and crew but it helped that filming and unit base ending up being a 10 minute cycle ride from my home!
The end of 2014 was spent making the finale of Ricky Gervais' series – DEREK which was broadcast over the Christmas holidays.  It was sad to see the end of this character – he's been good to me and my freelance career.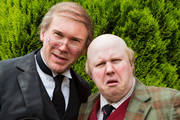 Summer 2014 was spent making POMPIDOU, for Pomp Productions (part of John Stanley Productions).  It is a surreal comedy made for the BBC, starring, written and directed by Matt Lucas and also featuring Alec McQueen.
Having completed the 2nd series of Derek at the end of 2013, 2014 saw me working on a pilot for ITV – The Delivery Man, made by Moniker Pictures, Produced and Directed by Victoria Pile.  It was great to work with Victoria and Rob Harley (writer) and I am delighted to say that it went to series, unfortunately I wasn't able to work on it as I had committed to Pompidou.
Before a nice break in the summer I worked on a great sit com pilot written by The Dawson Brothers – RIDES, for ITV2.   Executive Producer was Nana Hughes, the Comedy Development Producer at ITV and the Producer was John Pocock.  Tim Kirkby directed and the main character was played by the up and coming Chris Kendall.  This was my first gig at ITV – can't deny it felt a little strange to be sporting an ITV ID card but I thoroughly enjoyed it and the South Bank is a lovely place to work.
After this I squeezed in a taster tape for Lucky Giant – part of NBC Universal.  As always the smaller the project the harder work it is, but interesting to work with new companies and help out old friends.  The Producer was Simon Nicholls and the director Angie de Chastelai Smith.  Written by Graham Duff and Pat Cahill, who also takes one of the lead roles next to Matt King, it was part of the Channel 4 Blaps shorts season.
I returned to the BBC as a freelancer in October 2012  to take up the reins on yet another Comic Relief.  Bigger and more ambitious than ever it was quite challenging but as always incredibly rewarding too. The moment we persuaded Simon Cowell to put on a wedding veil made all the hard work worthwhile – oh that and the £94 million raised.
Prior to this I oversaw two shows for Derek Productions.  One being the first series of Derek written, directed and featuring Ricky Gervais and the other a pilot for Chanel 4 called 'Gittins'.  This was written by Brett Goldstein and David Earl and David also plays the title role of Brian Gittins, a taxi driver.  Gittins was directed by Michael Cumming.
At the start of 2012 I worked for Vera Productions on the new series of the award winning BBC4 comedy  GETTING ON, written by and featuring Jo Brand, Joanna Scanlan and Vicky Pepperdine.  This series was directed by Sue Tully and Produced by Geoff Attkinson.
My last production as staff at the BBC was  Life's Too Short  for BBC2.
While a staff member at the BBC, I worked on many high-profile shows across Comedy and Entertainment.  Highlights for me were Comic Relief and Sport Relief – on these challenging productions I drew on my experience of 'shiny floor' shows such as 'I'd Do Anything' (Andrew Lloyd Webber's search for West End stars to play Nancy and Oliver), comedy dramas such as 'Absolute Power' and 'Happiness',
sit-coms like 'After You've Gone' and sketch shows such as 'The Fast Show' (I'm in one of the sketches – prize if you can spot me!)
I pride myself on helping to put together strong, efficient and happy production teams who work well together. I have a reputation for bringing shows in on budget (or even under budget) whilst still satisfying the creative needs of the talent, Directors and Producers.
Judith